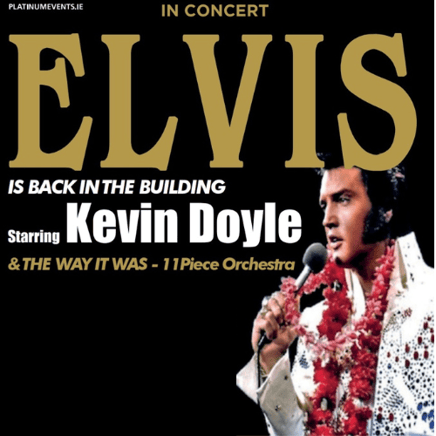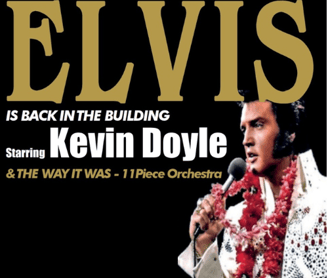 He's a Devil in Disguise! Kevin Doyle, Ireland's Leading Elvis performer and his 11 –piece backing band The Way It Was Orchestra have been entertaining both Irish and International audiences for over two decades.
Kevin and the bandhas featured on TV specials, and countless sell-out shows at Venues around Ireland Olympia Theatre, The 3 Arena, National Stadium and The Cork Opera House making them the hottest ticket when they come to Town.
Over the Years Kevin & Co have Collaborated with some of Elvis's actual musicians and singers such as Ray Walker-Base singer with The Jordanaires and various members of the iconic TCB band. The show has earned the reputation as the most authentic sounding Elvis concert this side of Memphis.
Elvis & The Way It was 11 Piece Orchestra
DATE : SATURDAY 13 JANUARY 2024
VENUE : ARDBOYNE HOTEL , NAVAN
DETAILS : DINNER & CONCERT € 60.00
DOORS OPEN 7:30PM FOR DINNER
CONCERT ONLY € 30.00
DOORS : 9:30 PM /CONCERT 10:00PM
TICKETS : FROM HOTEL TEL: 046 902 3119
DATE : SATURDAY 3 FEBRUARY 2024
VENUE : TOWER HOTEL , WATERFORD
DETAILS : DINNER & CONCERT € 60.00
DOORS OPEN 7:30PM FOR DINNER
CONCERT ONLY € 30.00
DOORS : 9:30 PM CONCERT 10:00PM
TICKETS : FROM HOTEL TEL: 051 862 300
DATE : SATURDAY 24 FEBRUARY 2024
VENUE : WESTGROVE HOTEL , CLANE
DETAILS : CONCERT TICKET € 30.00
DOORS : OPEN 8:00 PM CONCERT 9:00PM
TICKETS : FROM HOTEL TEL: 045 989 900
DATE : FRIDAY 19 JANUARY 2024
VENUE : MOAT THEATRE,NAAS
DETAILS : CONCERT TICKET € 30.00
DOORS : OPEN 7:30 PM CONCERT 8:00PM
TICKETS : FROM THEATRE TEL: 045 883 030