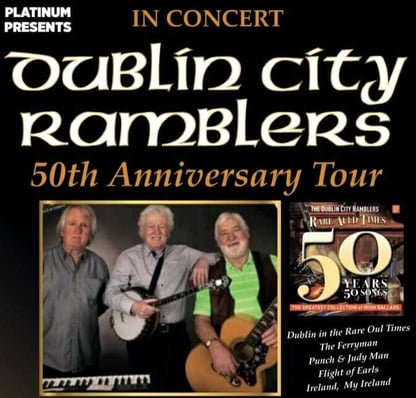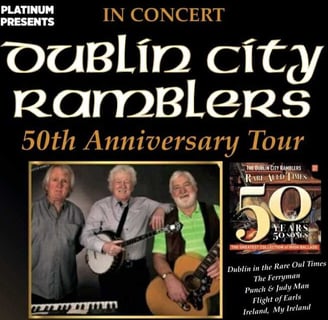 Have thrilled audiences worldwide with their unique blend of Ballads, Folk, Humour, Wit and foot-tapping music.
Their impressive career has spanned more than 50 years, with over 40 albums, top ten hits, several awards for best Ballad/Folk Group and, to top it all off, 8 Gold Albums. It is certainly no wonder that they are classed as Ireland's Number One Group! They have performed at most Major Festivals worldwide, including headlining The Milwaukee Irish Festival, The Cleveland Irish Festival, Hollywood Irish Fest, Florida, Miami Irish Fest, Ft Lauderdale and most USA, Canadian & other festivals throughout the Globe! Their music has also taken them all over Europe to rapturous receptions. They have performed at every major venue in Ireland and abroad, including Dublin's National Stadium, National Concert Hall, Cork's Opera House, England's Royal Albert Hall, New York's Carnegie Hall and any other venue you care to mention.
They have been honoured on several occasions by being given the Keys to the cities of Ft Lauderdale and Hollywood (Florida) and Moorehead ,Kentucky. They are in the Hall Of Fame in The Helen Stairs Theatre in Florida, and have also received The Arkansas Traveller Award, all normally reserved for visiting dignitaries. They received the Ballad/Folk group and Lifetime Achivement Award 2019 from Midlands Radio 3 and Keltic TV.
Among their many ardent fans was the beautiful actress Maureen O'Hara, star of that magical movie, "The Quiet Man", ex-Republic of Ireland managers, Eoin Hand, Johnny Giles & Jack Charlton, and a host of well known celebrities. Sean has kept The Ramblers (as they are affectionately known), going throughout the years, and they are now stronger than ever. With major tours of Ireland, England, Europe, USA, Canada & Australia lined up, they are sure to be coming your way soon.